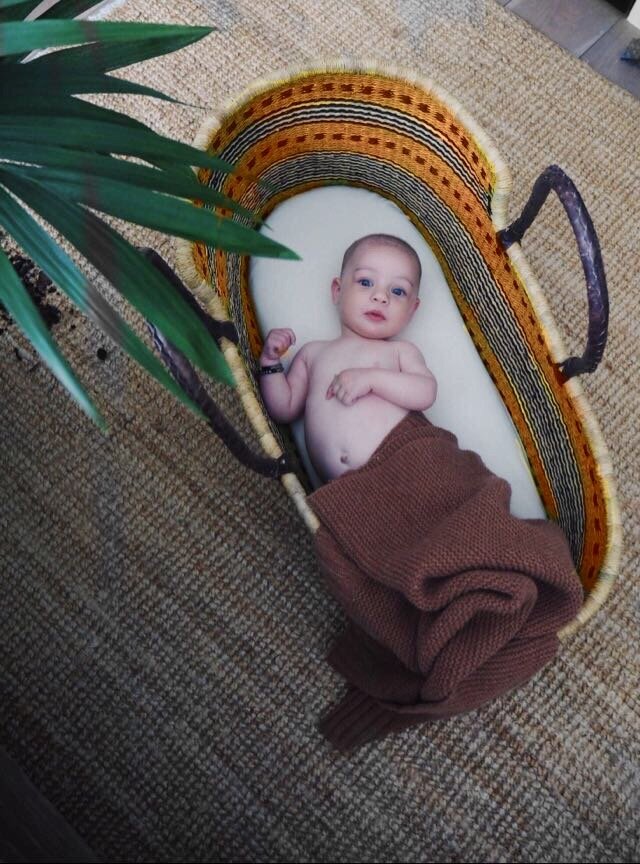 Uma - orange
Our handmade moses baskets are specifically designed for newborns. They are smaller than a cot, and provide a cosy and reassuring space for your baby. The baskets are light weight, which make them easy to move around.
With this basket you will have somewhere for your little one to sleep in no matter where you are, both in and outside of your house. And when the night comes you can place your basket on the stand next to your bed, as it is comforting for your baby to be close to you and allows you to respond quickly to their calls.
The moses baskets can be used till approximately 6 months old, or until your baby sits up or rolls over by itself.
Size: L:80 cm x W:30 cm
We also sell custom made ecological mattresses, bumpers and stands to make our moses baskets as complete as possible:
* Due to their size we are not able to ship our stands outside of Europe.
(When viewed on a mobile devise, scroll up to see the price)
The mattress
Our mattresses, produced in The Netherlands, are 6 cm thick High Resilience foam. (HR or koudschuim in Dutch). We made sure that the mattresses provide a good level of support for your baby's head and neck, while still being soft and comfortable. HR foam is a foam that 'breaths' and regulars fluids. It's resilient, and has a long life span.
The thick quilted mattress cover is made from 100 % ecological cotton, filled with ecological cotton padding, both toxin free. The cover is easily removable and washable at 40°C. It reduces humidity, what will keep your baby cool during the night. It also draws fluid away from baby's body for comfort and safety
The cover has the soft cotton-rich quilted surface to both sides, meaning you can alternate sides for an extra comfortable sleep.
Size: L:80 cm x W:30 cm x H:6 cm
The bumper
We've designed a bumper to compliment our moses basket using soft and breathable muslin cotton fabric. The bumper will keep your baby extra comfy and cosy.
It has a natural off white colour, which is perfect for boys and girls and matches any moses basket design and nursery.
Size: One size – made to fit The Kind moses baskets
Quality: Muslin/Gauze, 100% Cotton, 100% polyester padding
Wash instructions: Hand wash cold.
The stand
Our moses basket stand raises your baby to a height that is perfect beside your bed, and allows you to watch over your little one day and night. The stand folds for easy storage when not in use.
The sturdy frame, in a natural beech wooden finish, offers a stable and safe place for your basket. The stand comes with a metal base and hoops to hold basket securely.
Size: H:71 cm x W:45 cm x D:60 cm
Behind the basket
All of our baskets are fair trade and handmade in Bolgatanga, West Africa. Bolgatanga is the largest town in the Upper East Ghana and very close to the edge of the Sahara Desert.
For many generations, weaving has been a traditional skill of the people in Bolga. Basket weaving has helped bring much needed income to the villages surrounding Bolgatanga. Weaving is a traditional skill, which has been handed down from generation to generation. The baskets are made from kinkahe or elephant grass which grows in swamps and along rivers across Ghana, and is favoured by elephants, hence the name.
Our baskets are finessed with leather handles. The leather comes from local goats that have lived a free life. All of the meat is sold at local markets. We utilize as much of every skin as possible; scraps are reserved for making handles for smaller baskets or jewellery.
For more Behind the Kind footage go to our Instagram account.